Gujarat election results 2022: Key constituencies to watch out for
While Gujarat has been a BJP-ruled state, the major contest in Gujarat elections is between BJP and Congress and Aam Aadmi Party (AAP) political parties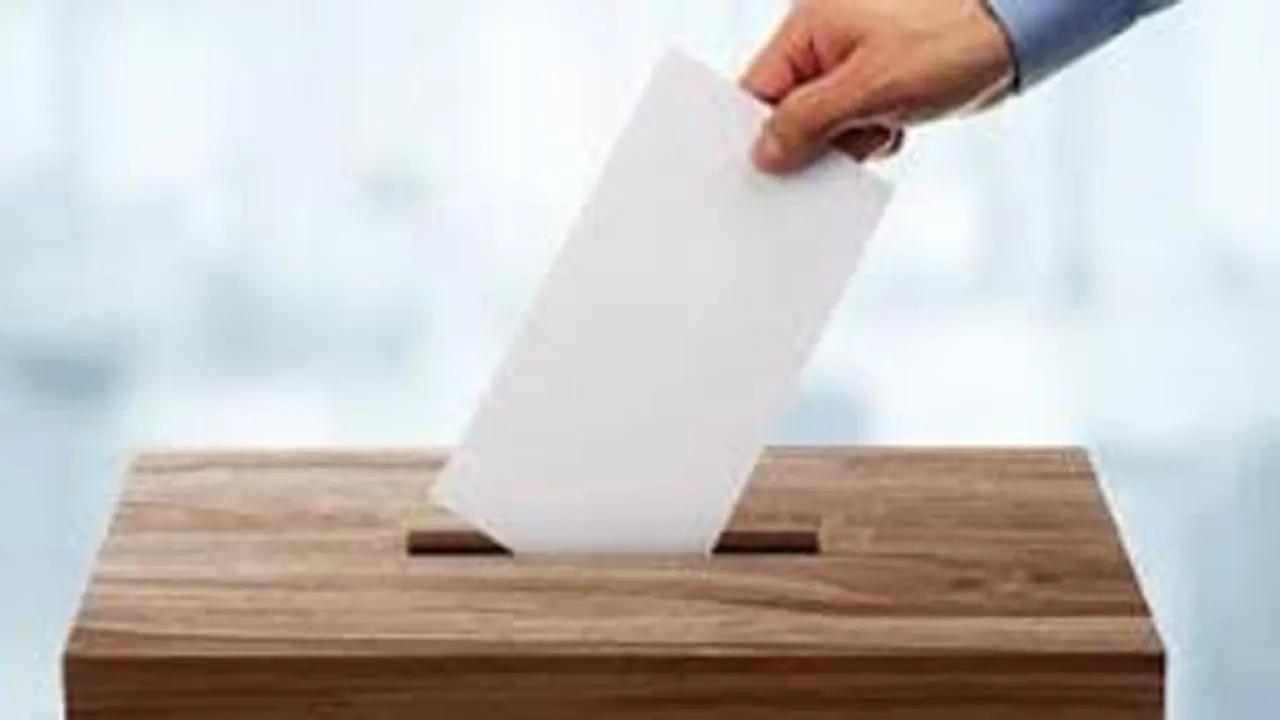 Representational Pic
The Gujarat Assembly elections' results for 182 seats will be announced on December 8. Voter turnout stood at 64.33 per cent in the recently concluded elections which were held in two phases on December 1 and 5 across 33 districts. While Gujarat has been a BJP-ruled state, the major contest in Gujarat elections is between BJP and Congress and Aam Aadmi Party (AAP) political parties.
Key constituencies:Jamnagar North
In the Jamnagar North constituency, the battle is between BJP's Rivaba Jadeja, cricketer Ravindra Jadeja's wife, Congress' Bipendrasinh Jadeja, and AAP's Karsan Karmur.
The BJP dropped the sitting MLA Dharmendrasinh Merubha who won the seat by defeating Congress in the 2017 Assembly elections. The seat came to the limelight after a political tussle between two members of the same family came to the fore with Rivaba, who is making her electoral debut.
Morbi
After the recent tragic suspension bridge collapse incident, Morbi constituency became into a highlight. The BJP has fielded Kantilal Amrutiya, who replaced sitting MLA and Cabinet Minister Brijesh Merja. Amrutiya is contesting against Congress' Jayantilal Jerajbhai Patel and AAP's Pankaj Ransariya.
Also Read: MCD polls: Nearly 55 per cent of victorious AAP candidates women
Khambalia
The AAP's chief ministerial candidate Isudan Gadhvi is contesting from the Khambalia seat. He is contesting against BJP's Mulu Ayar Bera and Congress' Vikram Madam.
Rajkot West
Rajkot West is the seat where Prime Minister Narendra Modi previously contested a by-poll in 2002. Former CM Vijay Rupani had also contested the seat in the 2017 Gujarat Assembly elections. The BJP has fielded two-time Deputy Mayor Darshita Shah against AAP's Dinesh Joshi and Congress's Mansukhbhai.

Talala
The BJP has fielded Bhagwan Barad from the seat contesting against AAP's Devendra Solanki and Congress' Mansinh Dodiya. Barad won the seat in the 2017 Assembly polls. He had resigned as the Congress MLA from Talala Gir Somnath district and had joined the BJP following which he was given a ticket from the same seat. Barad is an influential leader of the Ahir community. He won from the Talala constituency in 2007 and 2017.Katargam (Surat)
Kutiyana
Kandhalbhai Jadeja, son of late don Santokben Sarmanbhai Jadeja, is contesting on the Samajwadi Party ticket. He had won the 2017 Assembly elections on the NCP ticket, however, he quit the party recently after he was denied a ticket. He is contesting against BJP's Dheliben Odedra, AAP's Bhimabhai Makvana, and Congress' Nathabhai Odedra.
Ghatlodia
The Ghatlodia constituency result will determine the poll fate of Gujarat CM Bhupendra Patel. He contested against Congress' Amee Yajnik and AAP's Vijay Patel
Viramgam

Viramgam is also considered to be an important constituency where Patidar leader Hardik Patel contested as a BJP candidate,Lakhabhai Bharwad is the Congress candidate and Kunvarji Thakor is the AAP candidate.
The results of the Gujarat Assembly polls will be announced on December 8.
(with inputs from ANI)
Launch demo modal Midday Syndication
• This is our original content. Please fill up the form for authorized use of the content.
Nature of the client
Category Quantity Cost For Book Publishers Single 6,500 Pack of 5 22,000 Pack of 10 35,000 Pack of 20 55,000 Category Quantity Cost For Documentary / Filmmaker Single 20,000 Pack of 5 50,000 Pack of 10 80,000 Pack of 20 1,20,000 Video Clip - For Television Show Makers/Production Houses Quality SD HD 4K Duration 30s 30-90s 30s 30-90s 30s 30-90s Cost 20,000 30,000 40,000 60,000 80,000 1,20,000 Video Clip - For Television Show Makers/Production Houses Quality Cost Duration SD 30s 20,000 30-90s 30,000 HD 30s 40,000 30-90s 60,000 4K 30s 80,000 30-90s 1,20,000
Gujarat, Himachal Pradesh Election Results 2022: BJP eyes record seventh term in Gujarat, changing 'riwaaz' in Himachal
© Provided by DNA
The BJP is eyeing a record seventh straight term in Gujarat and also hoping to buck the anti-incumbency trend in Himachal Pradesh witnessed for nearly four decades as the stage is set for counting of votes on Thursday for the Assembly elections in the two states.
Simultaneously, votes polled in by-elections in six assembly constituencies in five states and the high-profile Mainpuri Lok Sabha seat in Uttar Pradesh, where the opposition Samajwadi Party is locked in a battle for prestige with the BJP, will be also counted. The counting process will commence at 8 am with postal ballots to be taken up first.
Exit polls have predicted a big majority for the Bharatiya Janata Party(BJP) in Gujarat and if these projections are any indication the saffron party is all set to retain power in the home state of Prime Minister Narendra Modi and Home Minister Amit Shah for the seventh consecutive term and equal Left Front's feat in West Bengal. The CPI(M)-led Front ruled the eastern state for 34 years from 1977 to 2011.
The BJP, which won 99 seats in the 2017 polls, is projected to win in the range of 117-151 seats in a House of 182 and the Congress between 16 and 51 seats. It is also upbeat about the possibility of the AAP eating into Congress votes, which could be additionally beneficial for the saffron party. The best showing for the BJP in Gujarat came in 2002 when the party had won 127 seats in the 182-member state assembly.
The poll outcome will determine if the Aam Aadmi Party(AAP) gets a chance to establish itself as a pan-national party and a challenger to the BJP at the national level also.
The AAP, which is in power in Delhi and Punjab and had launched an aggressive campaign to make it a three-cornered contest for the first time in Gujarat, was projected to bag anything between 2 and 13 seats. The majority mark is 92.
For the Congress, its role as the main challenger to the BJP is at stake and Thursday's results will show if the party's ?silent campaign' has cut ice with people. Top leaders of the party, which was projected to bag between 16 and 51 seats, were busy with Rahul Gandhi's Bharat Jodo Yatra. The Congress bagged 77 seats in 2017.
Congress holds power only in Rajasthan and Chhattisgarh, both of which will go to polls in 2023, and party insiders say that any hopes for the party's revival has to start from Himachal Pradesh. It is expecting the electorate to go by the nearly four-decade old tradition of voting out the incumbent government in the hill state.
As the BJP battled anti-incumbency sentiments after 27 years of rule in Gujarat, Prime Minister Modi was the party's trump card and the ruling party banked on 'Brand Modi' in a bid to contain the anti-incumbency factor.
Among the key issues in Gujarat campaign were unemployment, price rise, water not reaching certain pockets of the state, land acquisition for big projects and farmers not getting proper compensation for crop damage due to excess rains.
While Modi led the BJP poll campaign holding several rallies and mega road shows in Gujarat, Home Minister Shah was in the state for almost two months, micromanaging the campaign and the election strategy.
Party president J P Nadda, chief ministers of BJP-ruled states including Yogi Adityanath, Shivraj Singh Chouhan, Himanta Biswa Sarma and Pramod Sawant also addressed election rallies in the state. Almost all the Union ministers of the BJP took part in the campaign.
Congress leader Rahul Gandhi took time off his Bharat Jodo Yatra to address two rallies in Gujarat where Rajasthan Chief Minister Ashok Gehlot led the party's campaign. The new party chief Mallikarjun Kharge also addressed poll rallies.
Delhi Chief Minister Arvind Kejriwal steered an aggressive campaign for the AAP, holding several rallies and road shows in the last five months.
In Himachal Pradesh, it could be the Congress' turn to form the next government if one went by the state's "riwaaj(tradition) and long history of voting out the incumbent government.
But with all but two exit polls predicting an edge for the ruling BJP it remains to be seen which way the voters have decided in the closely fought elections.
The hill state has not returned any incumbent government to power after 1985, a trend the ruling BJP, powered by Prime Minister Modi's personalised campaign, hopes to break. The BJP slogan this time was "Raj nahin, riwaaj badlega", meaning the convention will change, not the government.
The BJP has bucked the anti-incumbency trend in the last Assembly polls in Uttar Pradesh, Goa, Assam, and Uttarakhand by repeating its state governments there, and is hoping to repeat its government in Himachal Pradesh, which is also the home state of Nadda. It is hoping for an encore on the back of its development agenda.
In the 2017 assembly elections in Himachal Pradesh with a house strength of 68, the BJP had won 44 seats and the Congress 21, with one seat going to the CPI-M, and two to independent candidates.
The Congress has been confident of its victory, saying the voters will decide on the fundamental issues of price rise, joblessness, the old pension scheme, and other challenges of life and livelihood the state residents have been facing.
With a muted campaign by the AAP and its former state in-charge Satyendar Jain lodged in Tihar jail, the Congress is upbeat that its vote share will only improve, while the BJP hopes to gain from a higher women vote percentage than men.
A higher women turnout has of late favoured the BJP, as seen in UP and Uttarakhand, with the party hoping that similar trends will hold in HP.
Both the BJP and Congress camps are learnt to have been in touch with independent candidates who might play a key role in the event of a close contest, predicted in several exit polls, with a slender edge to the BJP.
(With PTI inputs)
The BJP is set to return to power in Gujarat with a huge margin in terms of seat numbers, according to trends in the exit poll results. Zee News exit poll suggests the BJP could win between 110 and 125 seats in the 182-seat Gujarat assembly. The BJP has been in power in Gujarat since 1995. In the 2017 elections, the Congress threw a strong fight towards the saffron camp. But, this time they may lag behind in terms of number of seats. Acoording to the latest trends, the 'Modi Magic' will continue in Gujarat.
Political analysts feel that the main reason for this surprising result for the BJP is the presence of the Aam Aadmi Party. According to the exit poll results, AAP is not expected to get many seats. Most surveys say they can get single digit seats. But, the opposition vote is divided between them. Many considered Arvind Kejriwal to be a suitable alternative to the Congress. And this is one of the reasons for increasing the BJP's number of seats in Gujarat. However, the vote percentage is likely to decrease. This is not good news for the BJP if we look at 2024.
The BJP won 99 seats in the 2017 assembly elections. The magic number to form a government in the 182-seat Gujarat Assembly is 92. Since 2012, their number of seats has decreased by 16. But at the same time in 2017, they got 49.05 percent votes. 1.15 percent more than 5 years ago. The Exit poll survey says BJP could get 47 percent votes in the current elections. That is, compared to 2017, the votes received by the BJP may decrease a lot. On the other hand, Congress got 41.44 percent votes 5 years ago. This time, according to the exit poll, they could get 35 percent votes, AAP can get 12 percent votes.
Also, political analysts feel that there was a lack of campaigning on the part of the Congress in the Gujarat elections. Which ultimately went in favor of the BJP. Many central BJP leaders, including Narendra Modi, Amit Shah held meetings and roadshows in Gujarat one after the other. Arvind Kejriwal, Manish Sisodia, Bhagwant Singh Mann have repeatedly come to Gujarat to campaign for the Aam Aadmi Party. Congress has not been seen campaigning in Gujarat in the same manner as others campaigned in Gujarat. New Congress president Mallikarjun Kharge held several meetings in Kharg, but the Gandhis seem to have avoided Gujarat. Rahul Gandhi has been busy with the 'Bharat Jodo Yatra', spending only two days campaigning in Gujarat. Sonia and Priyanka Gandhi were not seen.
However, all the boxes will open tomorrow from 8 AM onwards. In order to find out the full list of winning candidates' names, check the latest updates below. Currently, the Bharatiya Janata Party is in government in Gujarat. Here you can see all the information about which party gets how many seats in Gujarat Chunav Results in 2022 out of 182 assembly constituencies. Also, the complete details of which MLAs have been elected from which constituencies can also be seen on the page below.
S.No Constituency Name Winning Candidate's Name and Party Name 1 Ghatlodia Announced Soon 2 Abdasa Announced Soon 3 Mandvi Announced Soon 4 Bhuj Announced Soon 5 Anjar Announced Soon 6 Gandhidham (SC) Announced Soon 7 Rapar Announced Soon 8 Dasada (SC) Announced Soon 9 Limbdi Announced Soon 10 Wadhwan Announced Soon 11 Chotila Announced Soon 12 Dhrangadhra Announced Soon 13 Morbi Announced Soon 14 Tankara Announced Soon 15 Wankaner Announced Soon 16 Rajkot East Announced Soon 17 Rajkot West Announced Soon 18 Rajkot South Announced Soon 19 Rajkot Rural (SC) Announced Soon 20 Jasdan Announced Soon 21 Gondal Announced Soon 22 Jetpur Announced Soon 23 Kalavad (SC) Announced Soon 24 Jamnagar Rural Announced Soon 25 Jamnagar North Announced Soon 26 Jamnagar South Announced Soon 27 Jamjodhpur Announced Soon 28 Dwarka Announced Soon 29 Porbandar Announced Soon 30 Manavadar Announced Soon 31 Junagadh Announced Soon 32 Visavadar Announced Soon 33 Keshod Announced Soon 34 Mangrol Announced Soon 35 Somnath Announced Soon 36 Talala Announced Soon 37 Kodinar (SC) Announced Soon 38 Una Announced Soon 39 Dhari Announced Soon 40 Amreli Announced Soon 41 Lathi Announced Soon 42 Savarkundla Announced Soon 43 Rajula Announced Soon 44 Mahuva Announced Soon 45 Talaja Announced Soon 46 Gariadhar Announced Soon 47 Palitana Announced Soon 48 Bhavnagar Rural Announced Soon 49 Bhavnagar West Announced Soon 50 Gadhada (SC) Announced Soon 51 Botad Announced Soon 52 Nandod (ST) Announced Soon 53 Jambusar Announced Soon 54 Vagra Announced Soon 55 Jhagadia (ST) Announced Soon 56 Bharuch Announced Soon 57 Ankleshwar Announced Soon 58 Olpad Announced Soon 59 Mangrol (ST) Announced Soon 60 Mandvi (ST) Announced Soon 61 Kamrej Announced Soon 62 Surat East Announced Soon 63 Surat North Announced Soon 64 Varachha Road Announced Soon 65 Karanj Announced Soon 66 Limbayat Announced Soon 67 Udhna Announced Soon 68 Majura Announced Soon 69 Katargam Announced Soon 70 Surat West Announced Soon 71 Bardoli (SC) Announced Soon 72 Mahuva (ST) Announced Soon 73 Vyara (ST) Announced Soon 74 Nizar (ST) Announced Soon 75 Dangs (ST) Announced Soon 76 Jalalpore Announced Soon 77 Navsari Announced Soon 78 Gandevi (ST) Announced Soon 79 Vansda (ST) Announced Soon 80 Dharampur (ST) Announced Soon 81 Valsad Announced Soon 82 Pardi Announced Soon 83 Kaprada (ST) Announced Soon 84 Umbergaon (ST) Announced Soon 85 Vav Announced Soon 86 Tharad Announced Soon 87 Dhanera Announced Soon 88 Danta (ST) Announced Soon 89 Vadgam (SC) Announced Soon 90 Palanpur Announced Soon 91 Deesa Announced Soon 92 Deodar Announced Soon 93 Kankrej Announced Soon 94 Chanasma Announced Soon 95 Sidhpur Announced Soon 96 Unjha Announced Soon 97 Visnagar Announced Soon 98 Bechraji Announced Soon 99 Kadi (SC) Announced Soon 100 Mahesana Announced Soon 101 Vijapur Announced Soon 102 Idar (SC) Announced Soon 103 Khedbrahma (ST) Announced Soon 104 Bhiloda (ST) Announced Soon 105 Modasa Announced Soon 106 Bayad Announced Soon 107 Prantij Announced Soon 108 Dahegam Announced Soon 109 Viramgam Announced Soon 110 Sanand Announced Soon 111 Vejalpur Announced Soon 112 Ellisbridge Announced Soon 113 Naranpura Announced Soon 114 Nikol Announced Soon 115 Naroda Announced Soon 116 Thakkarbapa Nagar Announced Soon 117 Bapunagar Announced Soon 118 Amraiwadi Announced Soon 119 Dariapur Announced Soon 120 Jamalpur-Khadia Announced Soon 121 Maninagar Announced Soon 122 Danilimda (SC) Announced Soon 123 Sabarmati Announced Soon 124 Asarwa (SC) Announced Soon 125 Daskroi Announced Soon 126 Dholka Announced Soon 127 Dhandhuka Announced Soon 128 Khambhat Announced Soon 129 Borsad Announced Soon 130 Anklav Announced Soon 131 Umreth Announced Soon 132 Anand Announced Soon 133 Sojitra Announced Soon 134 Matar Announced Soon 135 Nadiad Announced Soon 136 Mahudha Announced Soon 137 Thasra Announced Soon 138 Kapadvanj Announced Soon 139 Balasinor Announced Soon 140 Lunawada Announced Soon 141 Santrampur (ST) Announced Soon 142 Shehra Announced Soon 143 Morva Hadaf (ST) Announced Soon 144 Godhra Announced Soon 145 Kalol Announced Soon 146 Halol Announced Soon 147 Fatepura (ST) Announced Soon 148 Limkheda (ST) Announced Soon 149 Dahod (ST) Announced Soon 150 Devgadbaria Announced Soon 151 Savli Announced Soon 152 Vaghodia Announced Soon 153 Chhota Udaipur (ST) Announced Soon 154 Sankheda (ST) Announced Soon 155 Dabhoi Announced Soon 156 Vadodara City (SC) Announced Soon 157 Akota Announced Soon 158 Raopura Announced Soon 159 Padra Announced Soon 160 Karjan Announced Soon 161 Dhoraji Announced Soon 162 Khambhalia Announced Soon 163 Kutiyana Announced Soon 164 Bhavnagar East Announced Soon 165 Dediapada (ST) Announced Soon 166 Choryasi Announced Soon 167 Radhanpur Announced Soon 168 Patan Announced Soon 169 Himatnagar Announced Soon 170 Gandhinagar South Announced Soon 171 Gandhinagar North Announced Soon 172 Kalol Announced Soon 173 Vatva Announced Soon 174 Petlad Announced Soon 175 Mehmedabad Announced Soon 176 Jhalod (ST) Announced Soon 177 Jetpur Announced Soon 178 Sayajigunj Announced Soon 179 Kheralu Announced Soon 180 Mansa Announced Soon 181 Garbada (ST) Announced Soon 182 Manjalpur Announced Soon
IMPORTANT LINK TO WATCH TV CHENNAL
THANK YOU FOR WATCHING THIS POST....