'Why do people see politics in Har Ghar Tiranga? BJP didn't appeal, PM Modi did': Union Min Dharmendra Pradhan
New Delhi: Union Minister Dharmendra Pradhan in a conversation with Times Now hit out at Opposition leaders for creating controversy over 'Har Ghar Tiranga' campaign saying it is an appeal by the Prime Minister of the country and not a political party. "'Har Ghar Tiranga Campaign' is an appeal by PM Modi and not by the BJP. Also if not the Prime Minister, then who will give a call for this? Why do some people see politics in this?" Dharmendra Pradhan said.
Pradhan further noted that the Prime Minister only wants that people celebrate 75 years of Independence with as much enthusiasm as they do in other festivals. "We expect that every Indian house hoists the tricolour to celebrate 75 years of India's independence. What's wrong with that?" he said while speaking to Times Now's Navika Kumar.
Notably, Prime Minister Narendra Modi urged the people to hoist the Tiranga atop their houses for three days next month - from August 13 to 15, as part of 'Har Tiranga Campaign' under 'Azadi ka Amrit Mahotsav.' An official statement noted that over 100 crore people are expected to participate in the campaign.
However, a controversy erupted after the campaign was announced. Opposition leaders slammed the movement saying 'there's no need to give certificates to everyone born in this country.' "Everyone in the country loves and supports the country. We need not show it by hoisting the tri-colour necessarily. Nobody has given them the mandate of certificates of nationalism or nationality to anybody in this country," Congress leader Syed Naseer Hussain said, adding that every citizen of India is a patriot and that there's no need to ask people to show patriotism.
Har Ghar Tiranga: MP govt to hoist 1.50 cr Tri-colours on 75th Independence Day [details]
PM Modi greets people at Red Fort after addressing India on I-Day
Madhya Pradesh Chief Minister Shivraj Singh Chouhan on Sunday reviewed the preparation of 'Har Ghar Tiranga' (Tri-colours at every home) programme, a Centre's initiative to mark 75th anniversary of Independence Day.
During the two-day campaign from August 13 to 15, fixed by the Centre, the Madhya Pradesh government has set a target to hoist 1.50 crore Tri-colours across the state. Out of total 1.51 crore tri-colours to be hoisted, 51 lakh of them will be received from the Centre, while the rest one crore will be made in the state itself.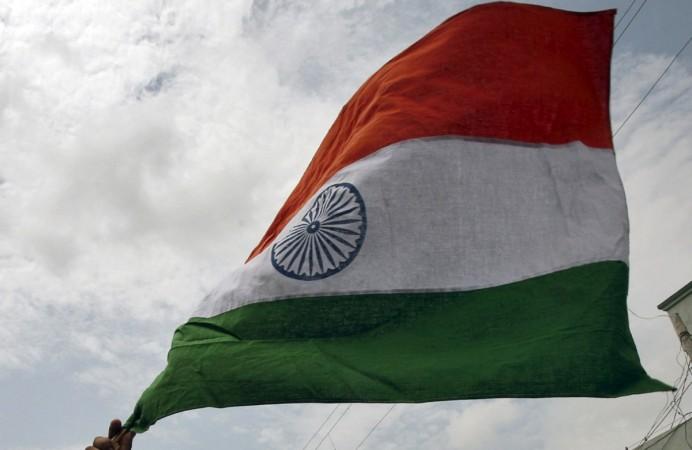 India flagReuters
The review meeting was attended by cabinet minister Bhupendra Singh, Chief Secretary Iqbal Singh Bains, DGP Sudhir Saxena, Personal Secretary (cultural) Shivshekhar Shukla and some more.
Tricolour for every home
During the meeting, the chief minister was apprised that the state has so far received around 20 lakh Tri-colours from the Centre and remaining 31 lakh will be received soon.
Further, around 63 lakh Tri-colours have been prepared by 'self group' of women. "Tri-colours are being made by self group of women across Madhya Pradesh. The government will set up around 36,000 centres across 52 district to distribute and sale these Tri-colours. Individuals will also be allowed to buy Tri-colours and distribute them in the society," Shukla added.
Shivraj Singh Chouhan
Meanwhile, the Chief Minister directed district administrations to hold meetings and prepare a detailed plan regarding 'Har Ghar Tiranga' programme.
He also appealed religious and social leaders along with politicians and other groups in the state to encourage people to hoist Tri-colours at their homes on the occasion of 75th anniversary of the Independence Day.
The next review meeting will be held on July 8.
(With inputs from IANS)
Assam government seeks to transform 'Har Ghar Tiranga' into people's movement, says CM Himanta Sarma
He added that 22 lakh beneficiaries of the state's Orunudoi scheme, under which the government provided Rs 1,000 each per month in the bank accounts of economically weak individuals, would receive an additional Rs 18 next month for buying the Tricolour
Guwahati: Assam Chief Minister Himanta Biswa Sarma on Sunday said that his government was seeking to transform the Har Ghar Tiranga' drive into a people's movement by encouraging individuals to procure the national flag, either from Self-Help Groups (SHG) or fair price shops.
Sarma explained that the Tricolour was being supplied at subsidised rates through fair price shops, but "the ones who can afford should ideally purchase it from self-help groups" as that would add to the their earnings.
Addressing a press conference here, Sarma said that the government has refrained from providing the national flag for free. We want to make Har Ghar Tiranga' a people's movement.
He stated that those who could not afford to buy the Tricolour from the SHGs or other stores should get it from fair price shops for Rs 18 per piece.
The government has bought 50 lakh flags from the textile ministry and is making these available to people through fair price shops. The flags being made by SHGs are slightly costlier. Only those who cannot afford to buy from SHGs may get them from fair price shops, he said.
He added that 22 lakh beneficiaries of the state's Orunudoi scheme, under which the government provided Rs 1,000 each per month in the bank accounts of economically weak individuals, would receive an additional Rs 18 next month for buying the Tricolour.
The chief minister said that the SHGs were given the target of making 30 lakh flags, and more than 10 lakh of these had already been sold.
In a bid to ensure success of the 'Har Ghar Tiranga' programme, as part of which people will unfurl the Tricolour at their residences, offices and other establishments from 13-15 August , awareness drives have also been designed and launched, he said.
IMPORTANT LINKS,
હર ઘર તિરંગા સર્ટીફીકેટ ડાઉનલોડ કરો | HAR GHAR TIRANGA CERTIFICATE DOWNLOAD| हर घर तिरंगा सर्टीफिकेट- VIDEO

Releasing a theme song and video on the occasion, Sarma said that the campaigns to generate more awareness would be undertaken by the schools from 2-11 August.
He appealed the MLAs of the state to not just unfurl the Tricolour as part of the programme but also motivate others to do so.Sarma said the government requested tea garden and shopping mall owners to gift a national flag each to their workers.
Petrol depots, too, can gift one flag to each customer. People can exchange national flags for gifts during this period, he added.
Read all the Latest News, Trending News, Cricket News, Bollywood News,India News and Entertainment News here. Follow us on Facebook, Twitter and Instagram.